Allen DOEZIE, M.D., FACS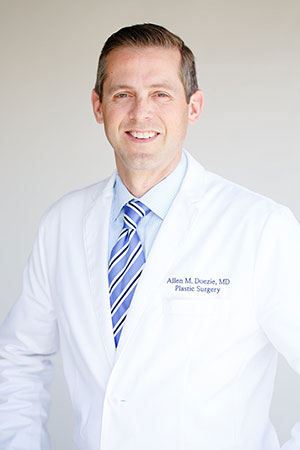 Dr. Allen Doezie's undergraduate education was at Brigham Young University where he graduated magna cum laude in 1994, with a B.S. in biochemistry. He then completed medical school at Washington University in St. Louis, one of the most highly acclaimed medical schools in the country. After this he completed a six-year integrated plastic surgery residency at Loma Linda University in Loma Linda, California. Dr. Doezie is board certified in plastic surgery by the American Board of Plastic Surgery and is a member of the American Society of Plastic Surgeons (ASPS), the American Society of Aesthetic Plastic Surgeons (ASAPS), and the California Society of Plastic Surgeons (CSPS). He has also been honored by being inducted as a Fellow in the American College of Surgeons.
Dr. Doezie has been a plastic surgeon in the South Orange County area since 2004. He is on staff at many of the local hospitals including Mission, Mission Laguna Beach, Saddleback Laguna Hills, and Hoag. He is especially active at Mission Hospital where he served as the chief of plastic surgery. He has also served on various committees including the surgical executive committee and trauma committee.
Dr. Doezie was featured on the PBS' Wellness Hour. He was voted "Hidden Gem" in the 2009 issue of the Orange County Register's Best of OC Guide.
Dr. Doezie currently resides in Ladera Ranch and spends most of his time outside of the operating room with his family. He and his wife Kelli have been blessed to have four children who keep them busy.
---