Breast Reduction is the common term used for a reduction mammaplasty; a plastic surgery designed to reduce the size of large breasts that are disproportionate to a woman's body and can cause physical pain. Breast reduction can be performed unilaterally (on one breast) or bilaterally (on both breasts).
Breast reduction surgery improves breast size, shape and the associated physical conditions of large breasts.

Specifically, breast reduction surgery can treat:
Neck, shoulder and back pain caused by the weight of excess breast tissue
Discomfort and shoulder indentation from bra straps that support heavy, pendulous breasts
Limited physical activity due to breast size
Skin irritation beneath the breast crease
A low breast profile (when the nipple rests below the breast crease)
An enlarged areola
---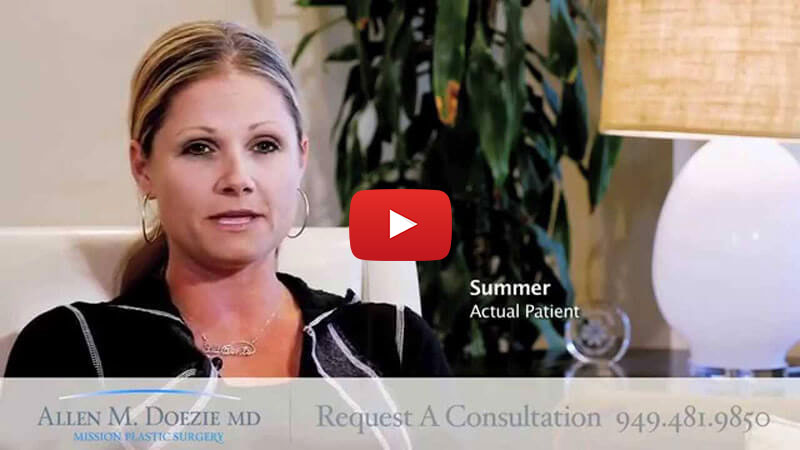 Best Candidates for the procedure
Women with excessively large breasts often have a poor body image and may even experience physical pain and discomfort. The weight of excess breast tissue can cause back and shoulder pain and may inhibit certain physical activity. Poor self esteem and self-consciousness are often associated with having large breasts and is an important issue to many women.

Good breast lift surgery candidates:
Are in over all good health
Have large pendulous breasts
Have breasts that are fully developed
Have realistic expectation for their outcome
Do not have a life-threatening conditions or illnesses that can impair healing Are Non-Smokers
Breast reduction surgery can be performed at any age; however Dr. Doezie recommends that women wait until their breasts are fully developed before considering surgery.
Initial Consultation
After meeting and discussing the procedure with you, Dr. Doezie will do a breast exam while his assistant takes notes of breast measurements and size. Before you leave a quote will be given to you at the end of your appointment.
The Procedure
Dr. Doezie will determine the breast reduction technique that is right for you. There are various types of breast reduction techniques available in Orange country.
Some of them are:
Doughnut or concentric incisions: This technique involves a circular incision all around the nipple. This breast reduction surgery requires less skin removal. On closing the breast skin is tightened up around the open doughnut when the nipple is elevated.
Keyhole or racquet-shaped incisions: This technique involves a keyhole incision and an incision all around the nipple.
Anchor shaped incision pattern: This technique involves an inverted T incision that circles the nipple and extends horizontally around the crease beneath the breast. Most breast reductions involve an anchor shaped incision pattern.
During the procedure, incisions are made along the anchor pattern. The nipple remains connected to the nerve and blood supply. The underlying breast tissue is reduced and reshaped to improve the shape of the breast. The nipple is repositioned into the appropriate place and excess skin is removed. The remaining skin is tightened and the incisions are closed.
Results
Immediately following surgery you may experience swelling and discomfort at the incision sites and in breast tissue overall. This is normal and any discomfort can be controlled with medications. Dr. Doezie may recommend you wear a support bra continuously for the first week or two. It is important to clean the incision sites and apply any medication as directed. It is essential to the success of your outcome to follow all instructions. As soon as you feel ready you can return to light, normal activity, usually within one to two days of surgery. Light activity is recommended to minimize the potential for blood clots and other complications. You may be ready to return to work and more normal activity at about 10 days, as long as you do not engage in any heavy lifting or vigorous exercise.
It may take several weeks for swelling to go down, incision lines to mature, and the shape of your new breasts to fill out. Most patients are highly satisfied because of the significant change they experience in their quality of life now that their symptoms of back, shoulder, and neck pain are relieved.
Risks
Breast reduction surgery can limit the ability to breast feed because significant amounts of tissue are removed during surgery. Most woman, however are still able to breast feed.
Changes in the breasts during pregnancy can affect the outcomes of previous breast reduction surgery, as can significant weight fluctuations.
Possible risks of breast augmentation procedures include:
Hematoma, blood pooling beneath the skin
Infection, blood clots, improper healing at the incisions site
Temporary changes in nipple or breast sensation
Costs
Breast reduction is generally considered a reconstructive procedure and may partly be covered by health insurance when it is performed to relieve medical symptoms. Many insurers define breast reduction surgery as breast reconstruction based on the amount of tissue that will be removed. However, pre-certification is often required for reimbursement or insurance coverage. Dr. Doezie will determine your exact quote at the time of your consultation or assist you with insurance verification.
Visit our photo gallery to see before and after pictures of Dr. Doezie's breast reduction patients.
Learn more about breast reduction surgery and Schedule My consultation with Dr. Doezie at Mission Plastic Surgery.