Should I Include Liposuction With My Tummy Tuck?
3 Minute Read: 
Many people struggle with excess abdominal fat and sagging skin from age, lifestyle, or life events (such as pregnancy, childbirth, and weight fluctuations). And while diet and exercise are still the healthiest ways to tone the body, the unfortunate reality is that some fat is resistant to these natural means, and a healthy lifestyle means little to loose skin.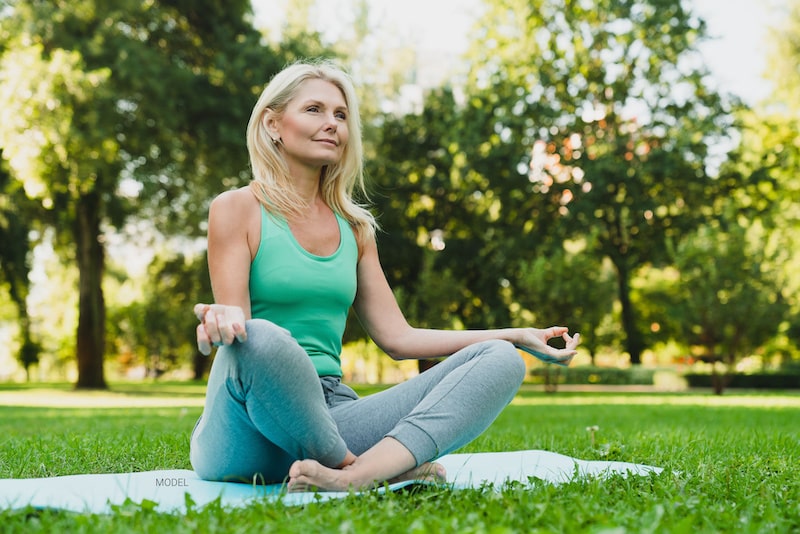 To get rid of this stubborn fat and loose skin to achieve the body contours you want, cosmetic surgery is often the best choice, and tummy tuck surgery is one of the most popular and transformational procedures available. 
However, it is a common misconception that a tummy tuck will address the entire circumference of the midsection. Instead, the best results come from combining liposuction with tummy tuck surgery. 
Below, we'll explore these two plastic surgery procedures, focusing on why a combination procedure is often ideal for women and men looking to achieve their optimal physique and improve their confidence.
What Can a Tummy Tuck Achieve?
Tummy tuck surgery (abdominoplasty) is a cosmetic procedure that addresses concerns in the midsection. With this procedure, Dr. Doezie tightens loose abdominal muscles (correcting diastasis recti), helping create a stronger core and improving posture. 
In addition to tightening the abdomen, a tummy tuck involves correcting skin laxity in the midsection. To achieve this, Dr. Doezie will surgically remove sagging skin from the abdomen. The remaining skin will then be redraped over the midsection before the incisions are closed. 
After a tummy tuck, you can look forward to achieving a more contoured and toned tummy that you'll want to show off at the beach or around town. 
What Can Liposuction Achieve?
Many people struggle with pockets of stubborn, subcutaneous fat. While this fat is often found in the midsection, it can be found virtually anywhere, including the arms, thighs, buttocks, back, chest, and flanks (among other areas). 
Liposuction surgery permanently removes unwanted fat, allowing patients to achieve thinner, more sculpted contours. And the fact that you can have liposuction on several areas of the body means that this procedure can truly transform your entire physique.
Why Should I Combine These Procedures?
Even after a tummy tuck, you may still have pockets of fat in the surrounding areas, like the hips, waist, thighs, and lower back, which may diminish your stunning tummy tuck results. 
Adding liposuction to your tummy tuck can eliminate additional unwanted fat (in the tummy and surrounding areas) to help you achieve a balanced appearance. 
And not only can you achieve better results from combining these procedures, but you can look forward to less overall cost and recovery time since you will be having these procedures at the same time (which means that you will only have to pay once for many of the fees, including anesthesia).
At your consultation, you can discuss your aesthetic goals, and Dr. Doezie will evaluate your body to determine whether you would benefit from a combined tummy tuck and liposuction procedure. 
Want to Learn More About Liposuction and Tummy Tuck in Ladera Ranch, CA?
Mission Plastic Surgery offers a wide range of body sculpting procedures. Our Ladera Ranch board-certified plastic surgeon and knowledgeable staff are here to help you through your entire plastic surgery journey. 
Call us today at (949) 481-9850 or complete our online contact form to schedule a consultation.